We are very excited to announce that we gained a new & exciting reading resource for your scholars!

myON reader is a personalized literacy environment that engages students at all reading levels by providing the largest integrated library of digital books. The over
1000 enhanced digital books
include reading supports, and are recommended to students based on individual interests and reading level! Giving students the opportunity to choose what they want to read, in a digital environment in which they are comfortable, motivates them to become better and more confident readers.
-Capstone Digital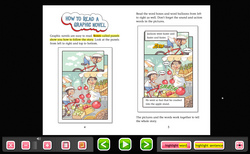 *This is a glance of what your scholar will see while reading.*
Be on the lookout for your child's login information, which will be sent home soon! This is a wonderful resource for boosting reading skills! If you have any questions, please feel free to email your child's homeroom teacher.